Motherhood is a significant theme in Denis' work – he created an entire series of paintings and prints devoted to this subject.
Maurice Denis is one of the leading representatives of the Nabis (1890-1914), a group of French artists that strived to depict universal values through intimate, often domestic, scenes.
Senior Curator Maite van Dijk introduces the painting and the theme in more detail in the video.
The painting Motherhood (Vierge au baiser) has been part of a private collection for many years, and has never before been exhibited in the Netherlands. The work will go on display at the Van Gogh Museum from today, as part of the permanent collection on the third floor.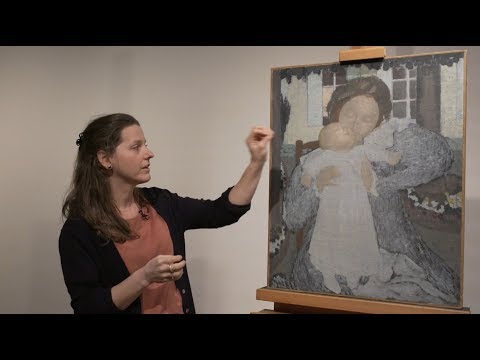 Vincent van Gogh & Maurice Denis
Maurice Denis was part of the Nabis, a group of French artists working in the period 1890 to 1914. The group admired Vincent van Gogh's highly personal expression of universal, human existence. This appealed to painters such as Denis and influenced their work. However, contrary to Van Gogh, the Nabis focused on ideas and concepts, instead of on the visible reality. For example, Maurice Denis was fascinated and touched by the bond between mother and child, and explored the universal value of maternal love in his work.
Van Gogh Museum collection & Maurice Denis
The Van Gogh Museum already had three paintings by Denis and an extensive collection of his prints (nearly 150) in its collection, to which it has now added a painting with the theme of mother and child – a theme that runs through a significant part of Denis' oeuvre. The museum is also home to a unique collection of late-19th-century prints by other leading Nabis artists, to which Motherhood (Vierge au baiser) is directly related in terms of period, style and subject.
Motherhood has not been on display in Europe since 1971 and has never before been exhibited in the Netherlands. The painting will now be on display at the museum, together with several prints from the museum's collection.
Eight paintings by Maurice Denis are in the State Art Collection. In addition to the Van Gogh Museum, the Kröller-Müller Museum has paintings by the artist in its collection. Of these works, Maternal Bliss (ca. 1910) shows thematic similarities, but it is a later work that differs significantly in terms of style and composition.