Vans worked closely with the Van Gogh Museum to select works by Van Gogh to serve as inspiration for a new Vans collection. The selection speaks to the creative ethos of Vans' design, as well as to personal moments from the artist familial history. With this collaboration, some of Van Gogh's most revered artworks are literally taken 'Off The Wall' and are showcased in a new way to a new audience, outside the museum.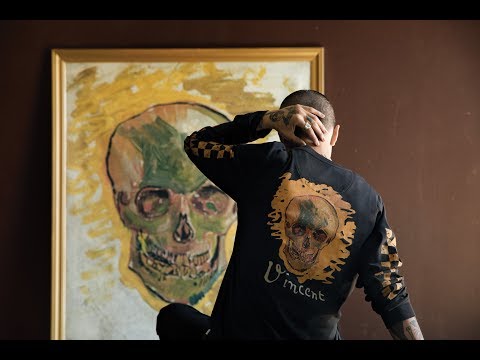 Adriaan Dönszelmann, Managing Director of the Van Gogh Museum: "We are delighted with the Vans x Van Gogh Museum collaboration, as it ties with our mission to make the life and work of Vincent van Gogh accessible to as many people as possible in order to enrich and inspire them."
Collection
The Vans x Van Gogh Museum collection consists of several apparel and footwear styles. Each design is an ode to Van Gogh's masterpieces such as: Skull, Almond Blossom, Sunflowers, Van Gogh's Self-Portrait as a Painter, Old Vineyard with Peasant Woman and several letters that Vincent wrote.
Each model from the footwear collection is finished with custom footbed art that mimics Van Gogh's memorable brush strokes with the Van Gogh Museum and Vans logo lock-up. Each piece from the collection will also include a special hangtag that highlights historical facts behind each piece of Vincent Van Gogh's art.
Launch and Sales
The Vans x Van Gogh Museum collection will be available in shops from 3 August 2018. Items are on sale at Vans.com, Vans retail stores and select Vans wholesale accounts. The collection will also be available in the museum shop at the Van Gogh Museum in Amsterdam and online in the museum's webshop.
About the collaboration
The Van Gogh Museum dedicates all profits from this project to the preservation of Vincent van Gogh's legacy and the collection of art. This way the project contributes to keeping Van Gogh's legacy accessible for future generations.
Contact
Would you like to find out more about the Van Gogh Museum brand licensing programmes and collaborative possibilities? Please get in touch, we are looking forward to discuss the options.